Tolos
Talk

0
2,717pages on
this wiki
Tolos
[[Image:|Tolos|250px]]
[[:Category:{{{Images}}}|Images]]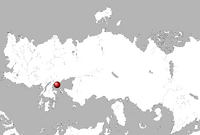 Tolos is a city in Essos. The city is located on the north-western coast of Slaver's Bay. It is south-east of Mantarys and southwest of Bhorash. The island city of Elyria is west of Tolos.[1][2]
In the books
Edit
In the A Song of Ice and Fire novels, Tolos is connected by a Valyrian road to Mantarys and Bhorash. Tolos is the last inhabited city before Meereen several hundred miles to the east (Bhorash being a ruin). Travel overland between Tolos and Meeereen is dangerous, due to the proximity of the Dothraki Sea to the north-east and also the harsh nature of the landscape. The Black Cliffs lie between Tolos and Bhorash.
The Tolosi are noted as being the finest slingers in the world. They use soft lead balls instead of stones, which do significantly more damage.
Tolos, Elyria, and Mantarys are the only three surviving cities on the Valyrian Peninsula, each in the northern sections not too close to Valyria itself when the Doom struck. They were colonies ruled directly by governors from the Valyrian Freehold, not Free Cities that had purchased contracts for some limited rule over local affairs. After the Doom, because they were located on the east coast, Tolos and Elyria developed developed closer ties with the Ghiscari cities of Slaver's Bay to the east, and fell into their cultural orbit. Mantarys, however, is located far from the coast, up in the foothills of the Painted Mountains, and as a result it became increasingly isolated.
References
Edit