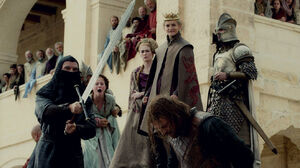 Treason is a serious crime against a sovereign or the realm or kingdom as a whole, including rebellion, regicide, oathbreaking, and espionage. A Queen consort committing infidelity against the King is also considered treason.
The punishment for treason is death, usually by public execution. If expedient, a traitor may instead be pardoned in exchange of hostages or by agreeing to take the black and join the Night's Watch.
Like oathbreaking, the nature of treason is not an absolute one and is subject to political machinations. It can often depend on whether said treason is successful. While a defeated rebel will be condemned and executed as a traitor, a victorious one will be in power and will merely receive the epithet usurper.
In the city of King's Landing, those accused of treason are confined to the Black Cells.
Major cases and accusations of treason
Quotes
See also
Ad blocker interference detected!
Wikia is a free-to-use site that makes money from advertising. We have a modified experience for viewers using ad blockers

Wikia is not accessible if you've made further modifications. Remove the custom ad blocker rule(s) and the page will load as expected.