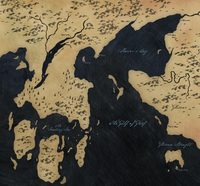 Tyria is a former city of the Valyrian Freehold. It was laid waste in the Doom of Valyria. Its ruins are now located on the same island as the ruins of Valyria itself, across the Smoking Sea from Oros.[1]
In the books
In the A Song of Ice and Fire novels, Tyria is connected by a Valyrian road to the ruins of the capital city of Valyria.
See also
References
Ad blocker interference detected!
Wikia is a free-to-use site that makes money from advertising. We have a modified experience for viewers using ad blockers

Wikia is not accessible if you've made further modifications. Remove the custom ad blocker rule(s) and the page will load as expected.