"True courage is not knowing when to take a life, but when to spare one."
― Gandalf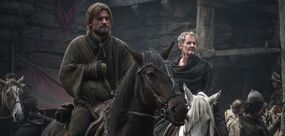 Biography
Hey guys!
My name is Melcher Sjöman (Mel Sailor in english) and I'm from sweden. I´m 16 years old and live with my family in Katrineholm. I love to read history, myths, legends and religion. Since I was a little kid I have always loved the medieval time, magic and much more about it. On my sparetime, I like to look on TV-series, be with my friends, writing stories, read, draw, listen to music, read newspaper and use my computer. There isn't any much more you need to know about me, at least for now. 
​Game of Thrones
​I started to look on Game of Thrones yesterday (April 29, 2013) and I think it´s really awesome. I have always preferred the old TV-shows over the new ones like Hercules: The Legendary Journeys and Xena: Warrior Princess because most of them are crappy today. HTLJ and XWP were my favourite TV-shows and it has been hard to say goodbye to them but now it seems that they have (they are still in my heart though), sometimes you just have to move on I guess. But I think Game of Thrones will make me shit my pants real hard, I also noticed that the 3rd season have arrived and I'm excited to see that season when I'm there. When I saw the first episode I thought it was just boring but when I looked more it was pure awesome...a new age is coming for me now :) 
​Activity
I'm gonna help so much I can on the wiki. I can't promise that I'm going to be active everyday because now there is a lot of homeworks and tests going on in school, but I'm going to do my best AND don't rush. I enjoy being on the wiki and help, but what I do most is reading on Game of Thrones wiki. I´m currently working on:
​Adding episode information in character pages 
Correcting mistakes/gr​ammar/spelling in all types of pages
Adding references in all types of pages 
Adding episodes in templates on character pages ​
​Other Account
​I have one other account on the wikia forum. It's Thandeon and on that account I contribute to The Elder Scrolls wiki, Legend of the Seeker wiki and Herc Xena wiki.
​Youtube
On Youtube my name is Thandeon. Nothing more needs to be known other than that I have uploaded a couple of videos. Here is a link
​My Favorite Characters
I hope they will survive the series, if not, I´m gonna cry so much. There is plenty of more characters in the show I like but these means more for me. 
The Books
​I haven´t read the books and I think I never will. Not that I hate the books in any way but I have gotten so far into the series that I can´t begin reading the books. I also don't want to get spoiled by the books about the TV-Show. Maybe after Game of Thrones has ended, I will read the books.