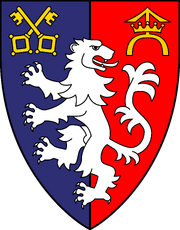 My name is Lucas Garczewski, I'm a RPG gamer and fantasy fan. I work at Wikia.
Me and Game of Thrones
Edit
I'm a huge fan of Martin's work, read all five books in a week after I bought my Kindle.
I must say, though, that I'm not as hooked on the TV series – not yet, at least.
I'm a huge heraldry enthusiast, which I suppose was one of the things that got me hooked on the books in the first place.
I'm a member of The White Lion Society, The Polish Heraldry Society and several other heraldry groups.
A while back I've organised a auction of signed ASOIAF books to support these groups – was great fun for a good cause, do feel free to copy the idea.
Me and this wiki
Edit
I plan to help grow this wiki by adding tiny bits of content here and there, but I will probably focus on categorisation and structure.
As I work with wikis daily, as a user and a developer, you can come to me with any problems, technical issues, wiki-culture questions, you name it. Can't promise I'll react at once (there are over 20 000 other wikis to look after...), but I will get back to you and try to help out. Just drop me a line.