"I will take what is mine with Fire and Blood."
As the username suggests, I'm a big Targaryen loyalist who wants to see Daenerys Targaryen sit the Iron Throne. Of course, I'd also like to think of myself as a Stark bannerman, the rightful kings of the North. Other characters that interest me a lot are Melisandre, Qyburn, Varys, Jaqen H'ghar and Daario Naharis. I'm a latecomer to this wiki but I hope to work hard and improve it to make it even more impressive than it already is.
Favourite Characters
Edit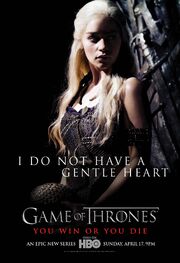 Least Favourite Characters
Edit
Major contributions
Edit
I completed the article Portal:Main Characters and its associated images and templates.
I've been working hard to reduce the number of red links and stub articles on the wiki.