Comments

0
Grateful Dead references in Game of Thrones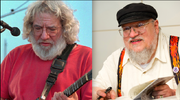 In a recent interview at New York's 92nd Street Y George R. R. Martin confirmed the connection between Game of Thrones and the Grateful Dead. "I'm certainly a fan of the Grateful Dead, My wife Paris is perhaps more of a fan of the Grateful Dead than I am."
Weirwood trees are named after Mr. Bob Weir, Martin calls his home Terrapin Station and the Grateful Dead songs "Dire Wolf," "Cassidy" and "Dark Star" all make reference in his books.  
Watch the interview here .
Source Billboard.com
Ad blocker interference detected!
Wikia is a free-to-use site that makes money from advertising. We have a modified experience for viewers using ad blockers

Wikia is not accessible if you've made further modifications. Remove the custom ad blocker rule(s) and the page will load as expected.