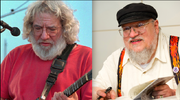 In a recent interview at New York's 92nd Street Y George R. R. Martin confirmed the connection between Game of Thrones and the Grateful Dead. "I'm certainly a fan of the Grateful Dead, My wife Paris is perhaps more of a fan of the Grateful Dead than I am."
Weirwood trees are named after Mr. Bob Weir, Martin calls his home Terrapin Station and the Grateful Dead songs "Dire Wolf," "Cassidy" and "Dark Star" all make reference in his books.  
Watch the interview here .
Source Billboard.com