Comment

1
More Game of Thones effects breakdowns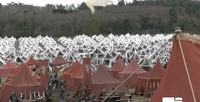 We've already shown you how some of the special effects for Game of Thrones were made by BlueBolt. Now another company that worked on the show, SSVFX, has also released an impressive making-of video. See it here:
I don't know about you, but I would never have guessed that some of them were CGI.
Ad blocker interference detected!
Wikia is a free-to-use site that makes money from advertising. We have a modified experience for viewers using ad blockers

Wikia is not accessible if you've made further modifications. Remove the custom ad blocker rule(s) and the page will load as expected.