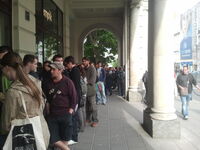 George R.R. Martin, the creator of the A Song of Ice and Fire series of novels on which the Game of Thrones TV series is based on, came to Poland for a few days, starting with a visit to Warsaw, then a convention in Nidzica, and finally ending with a book signing here in Poznań, where Wikia's Polish office is also located.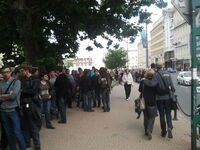 When I came an hour early to the Empik bookstore where the meeting was scheduled, I noticed that there were a bunch of people there waiting in line already, but I decided to grab something to eat first instead. When I did and came back, suddenly the line turned out to be a lot longer, with dozens of people waiting with books in their hands outside the building. Fortunately, halfway through the line I managed to find a couple of my friends, so I somehow squeezed in instead of going to the very end. And, as it turns out, this was just the beginning! The line was growing and growing to ridiculous length, extending into a nearby park. Initially, I thought I was pretty far in the line given how many people were in front of me, but by the time Martin actually came to the store, I was very happy to be this close.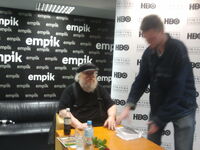 Finally, the author arrived and the line slowly started to go forward. The fact that some people seem to have brought George R.R. Martin's whole bibliography with them for him to sign didn't make matters any better. Well, at least I was in good company, so the experience wasn't that boring. After an hour and a half, the bearded writer finally appeared on the horizon, not just signing the books and saying "Next!" but actually having a small chat with everyone who approached him (which was nice on one hand, of course, but on the other didn't make things any better for the hordes waiting outside). He didn't seem to be tired (I would be after this many books to sign), but then again, he's had decades of experience.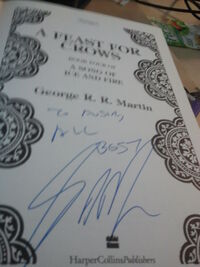 After two hours, I finally managed to get my books signed (I brought three with me - A Game of Thrones, A Feast for Crows and the completely unrelated Dying of the Light). I resisted the temptation to give him the Polish edition of Stephanie Meyer's Twilight to sign. I think he would have noticed it's not one of his, anyway - unconveniently, Twilight in Polish still has Stephanie Meyer's name on the cover.
Anyway, here it is - George R.R. Martin's signature on my copy of his book! I wonder if, after two more hours, people are still waiting with their books outside the store... Maybe I'll check it out on my way home.