Comments

5
Post Questions for Theon/Reek Actor Alfie Allen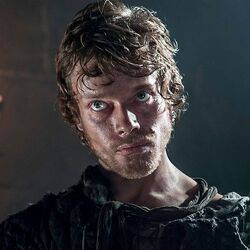 Exciting news, Game of Thrones fans! You already know Wikia is making its return to Chicago for C2E2, April 25-27, and will be hosting a "Game of Thrones Fan Forum! It is sure to be a favorite of the show's attending fans, and Werthead, founder of gameofthrones.wikia.com will be on the stage!
As you know from a prior post, Hodor actor Kristian Nairn plans to join us as a special guest for a portion of the panel, but we just learned ANOTHER special guest will be joining: Alfie Allen, the actor who plays poor Theon Greyjoy!
Post your questions for Alfie Allen in the comments and we'll do our best to get them answered.
Stay tuned next weekend for our coverage from C2E2. Headed to the show? Leave your info here to join the #WikiaLive fun!
---
---
Ad blocker interference detected!
Wikia is a free-to-use site that makes money from advertising. We have a modified experience for viewers using ad blockers

Wikia is not accessible if you've made further modifications. Remove the custom ad blocker rule(s) and the page will load as expected.