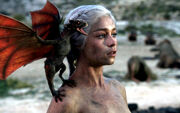 In the last episode of season one, Fire and Blood, upon seeing Daenerys Targaryen rising from the ashes of the funeral pyre with her three baby dragons, Ser Jorah Mormont exclaims: "My blood is your blood!" and then bows before Dany.
I keep wondering what he means by that remark. Is it meant as a sign of his allegiance, as in: 'Your will is mine' / 'I succumb to you', or does he actually refer to blood lines?
Ad blocker interference detected!
Wikia is a free-to-use site that makes money from advertising. We have a modified experience for viewers using ad blockers

Wikia is not accessible if you've made further modifications. Remove the custom ad blocker rule(s) and the page will load as expected.