Comments

0
Game of Thrones Upgrade at Comic-Con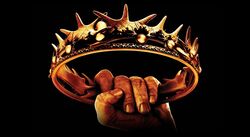 Need some more proof that Game of Thrones is currently the hottest show on TV? Comic-Con has upgraded its panel to Hall H, one of the biggest rooms at the convention and usually reserved for big name movies.
Game of Thrones panel will take place on Friday, July 13 while its popular sister show True Blood will take place on Saturday.
Fun Fact: Lost paved the way for TV shows to hold court in Hall H for the first time, and Game of Thrones may be the only cable show to get upgraded.
Are there any GoT Wikians going to Comic-Con this year? Let us know and RSVP to our party!
Source
---
---
Ad blocker interference detected!
Wikia is a free-to-use site that makes money from advertising. We have a modified experience for viewers using ad blockers

Wikia is not accessible if you've made further modifications. Remove the custom ad blocker rule(s) and the page will load as expected.