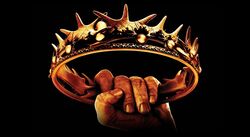 Last week, I wrote a blog about how Game of Thrones was getting the royal upgrade at Hall H for Comic-Con. Well, there's even more exciting news on the horizon. George R.R. Martin, the author of Game of Thrones, will be holding court at the Con as co-moderator!
Are you heading to SDCC this year? What other panels are excited for? You can see the full schedule at Comic-Con Wiki!
Ad blocker interference detected!
Wikia is a free-to-use site that makes money from advertising. We have a modified experience for viewers using ad blockers

Wikia is not accessible if you've made further modifications. Remove the custom ad blocker rule(s) and the page will load as expected.