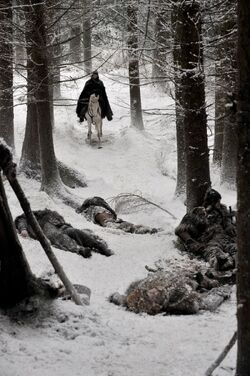 Good news! After stellar reviews and a fairly strong ratings for Game of Thrones pilot, the HBO series has already been renewed for Season 2!
While the ratings could have been slightly better (2.2 million on Sunday), an extra 2 million caught the encore viewings, putting it at 4.4 million. By comparison, one of HBO's biggest hits, True Blood, started out with a paltry 1.44 million only to become a bona-fide hit.
Read on to find out that the HBO president said about the the collaboration on the amazing books!
Source
http://www.tvline.com/2011/04/ratings-game-of-thrones-down-but-not-out/#more-208926
Kate.moon 18:38, April 19, 2011 (UTC)
Ad blocker interference detected!
Wikia is a free-to-use site that makes money from advertising. We have a modified experience for viewers using ad blockers

Wikia is not accessible if you've made further modifications. Remove the custom ad blocker rule(s) and the page will load as expected.