When Game Of Thrones left off, we were all stuck wondering what would happen next--plus, we knew we'd have to wait until 2012 to find out!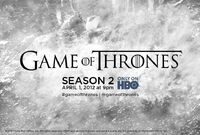 Well, if you don't mind being teased a little, take a look at the new Game of Thrones pictures.
For one, I can gather from these pictures that Arya Stark is still living the hard knock life, disguised as a boy, and Daenerys Targaryen seems a bit weary--but with her strong spirit, who knows what's coming? Sansa Stark seems to be in a horrible state of distress--possibly due to something her husband Joffrey Baratheon did? We're not seeing any pictures of Jaime Lannister--any thoughts as to what he's up to?

Source: Insidetv.ew.com