Comments

2
Game of Thrones Valentines Day Cards
Say what you want about Valentine's Day being a "Hallmark holiday". Maybe it is, but at least it comes with some original cards, instead of the usual "forever and ever, love, bla bla bla" ones. These are brought to you by artist Chris Bishop, a devoted Game of Thrones fan. Warning: you are going to need to be a Game of Thrones fan with a pretty funny sense of humor to like these. I think they're awesome! You can see the rest of them here. Happy Valentine's Day!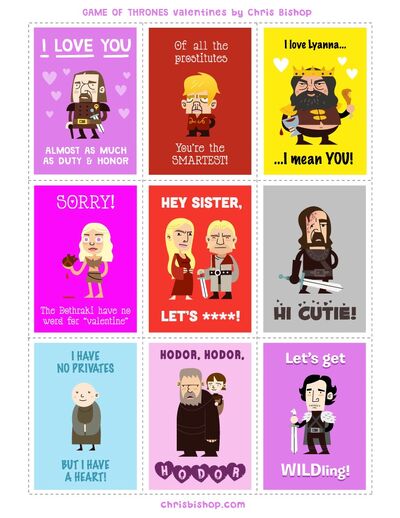 Source: Insidetv.ew.com
Ad blocker interference detected!
Wikia is a free-to-use site that makes money from advertising. We have a modified experience for viewers using ad blockers

Wikia is not accessible if you've made further modifications. Remove the custom ad blocker rule(s) and the page will load as expected.