Well, I know I'm counting down the days until I get to watch Season 2 of Game of Thrones and I can only imagine all of you on the Game of Thrones Wiki feel the same way! Luckily, new promo images and poster images can help quench our thirst for Game of Thrones...perhaps temporarily...or maybe they just tease us more!
The first image is from an Entertainment Weekly photo shoot, in which all the actors decided to rock out on air guitars. They seem like pretty fun people to be around!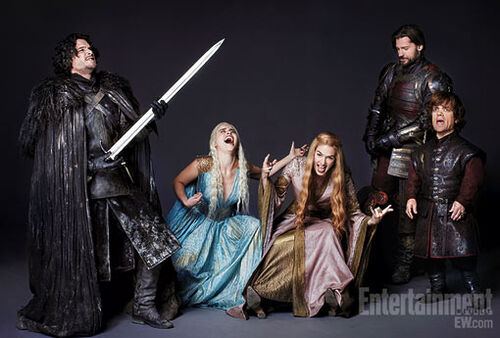 There's also a promo image of Tyrion Lannister kissing his sister Cersei Lannister. Although presumably this is a different kind of kiss than she shared with her other brother Jaime Lannister...along with a bunch of other Season 2 images from Entertainment Weekly.
Publicity photographs
Set photographs
Photo shoot
Magazine covers
And last but not least, check out these cool Game of Thrones magazine covers!
Source: popwatch.ew.com