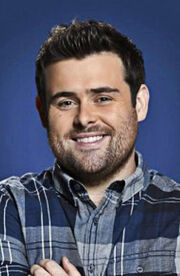 A bit of belated season 2 casting news - British actor David Fynn is playing Rennick in the second season. His agency Shepherd Management confirmed that he will be appearing in the series after he was seen in two recent trailers from HBO. Shepherd also represent the excellent John Bradley West who plays Samwell Tarly on the show.
Rennick is not a character from the books. Judging from his red costume in the trailers and his sharing scenes with a Lannister guardsman he might be associated with House Lannister. The trailers show him in a tense night-time scene.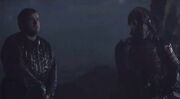 Fynn is a recognizable face to television viewers having appeared in Pete Versus Life, Peep Show, Doctor Who, The Inbetweeners, Spooks, Teachers and Black Mirror. He also has a role in the current HBO series Life's Too Short (which has already been shown in the UK). He trained at The Webber Douglas Academy of Dramatic Art and has worked in film and theatre as well as his television roles. He is currently appearing in the National Theatre production of She Stoops to Conquer in London. He has forthcoming roles in the British comedy series Big Bad World and Parents.
I'm looking forward to seeing him on the show although we may still have a bit of a wait as he was contracted to appear in episode 208. He was hilarious playing the dry and cruel witted mechanic Wolfie in The Inbetweeners and handled a more dramatic role well in the science fiction anthology Black Mirror. What do you think the character will get up to?