Comments

4
Game of Throne fans enjoyed a finale cameo!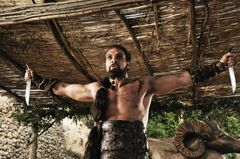 Jason Momoa returned as Khal Drogo in the finale of season 2 Game of Thrones "Valar Morghulis".
Drogo, a fan favorite, was seen in an illusion of Daenerys when she entered the House of the Undying to reclaim her dragons.
EW posted: Producers really wanted Momoa's cameo to be a surprise (we've been itching to tell readers for months) and, amazingly, it was. "Khal Drogo's death was as sad off-screen as it was on," says Dan Weiss, the showrunner on Thrones along with David Benioff. "After his last day of season one shooting, it was sort of like, 'There goes the party.' Luckily, or unluckily, or both, the rest of the cast stepped up their efforts on that front. Still, it was excellent to bring him back. I'm amazed word didn't get out, to be honest – he was in Belfast shooting the scene. People must have seen him. He's a hard guy to miss."
Read more on this article: here
Ad blocker interference detected!
Wikia is a free-to-use site that makes money from advertising. We have a modified experience for viewers using ad blockers

Wikia is not accessible if you've made further modifications. Remove the custom ad blocker rule(s) and the page will load as expected.