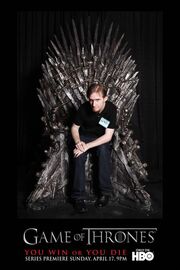 Every now and then I leave the Wikia office in Poznan, Poland and fly over to Wikia Headquarters in San Francisco. This time around, apart from working on the latest bugs, catching some California sunshine and hanging out with my esteemed collegues, I also got to attend WonderCon
You can probably imagine the smile that appeared on my face when the first thing we saw after getting our tickets was HBO's Game of Thrones booth, complete with costumes from the series, t-shirts and, last but certainly not least, a replica of the Iron Throne!
Feast your eyes on the gallery below:
In short, as you can see, WonderCon was, well, wonderful! I only hope I can visit next year, too...