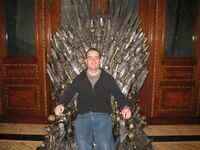 This past weekend I attended EasterCon 2012, an annual British SF and fantasy convention. This year the con was held at a hotel near Heathrow Airport, with George R.R. Martin as guest of honour.
My main role was to interview GRRM about the books, the TV series and his earlier career, during which some interesting anecdotes came up. The interview was recorded, so I'll post a link once it becomes available online.
There was also a TV panel in which actors Miltos Yerolemou and John Bradley-West discussed their work on the programme, with Yerolemou showing off some of his sword training skills. At a later party Gethin Anthony and Natalia Tena also showed up to meet fans and mingle, which was cool.
Overall, an interesting event. Those who fancy attending an SF convention and mingling with Game of Thrones actors are advised to check out TitanCon 2012, a Belfast convention to be held in September where a number of actors from the TV show will be in attendance.
--Werthead 17:09, April 9, 2012 (UTC)
The video interview is now live on the Ustream website. --Werthead 14:01, April 10, 2012 (UTC)