Comments

14
GAME OF THRONES appears on THE SIMPSONS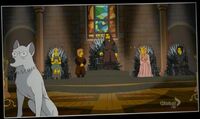 Game of Thrones references continue to seep into other American TV shows. After being referenced on The Big Bang Theory and Chuck, Thrones has now been accorded the honour of a (very brief) appearance on The Simpsons. In the episode "The Ten-Per-Cent Solution" (the eighth episode of the twenty-third season), Krusty the Clown is fired from his TV series and tries to get a new show off the ground at the 'HBOwtime' network (a reference to HBO and fellow cable channel Showtime). During a sequence advertising the network's shows, a 'Simpsonized' version of the Game of Thrones cast can be seen, along with other HBO shows.
Ad blocker interference detected!
Wikia is a free-to-use site that makes money from advertising. We have a modified experience for viewers using ad blockers

Wikia is not accessible if you've made further modifications. Remove the custom ad blocker rule(s) and the page will load as expected.