Wyl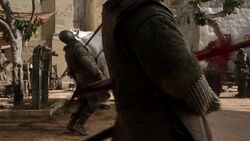 Appeared in
{{{Appearances}}}
Date of birth
{{{Birth}}}
Death
Killed by Lannister guardsmen
[[:Category:{{{Images}}}|Images]]
Eddard Stark: "Who are your best two swords?"
Jory Cassel: "Heward and Wyl."
Eddard Stark: "Find them, and meet me at the stables."
— Eddard Stark and Jory Cassel
Wyl is a character in the first season. He is a guardsman sworn to House Stark. He and Heward are killed by Lannister man along with other Stark men.
BiographyEdit
Wyl travels south with Lord Eddard Stark when the latter is appointed Hand of the King. He accompanies Lord Stark to one of Petyr Baelish's brothels, and is speared by Lannister guardsmen on the orders of Ser Jaime.[1]
In the booksEdit
In the A Song of Ice and Fire novels, Wyl is a young guardsman sworn to House Stark. He is killed differently than in the show: the Lannister guardmen pull him off his horse and use their swords to kill him.
ReferencesEdit